Second Circuit Eliminates School Board Exclusive Control Over Methodology
Jan. 13, 2017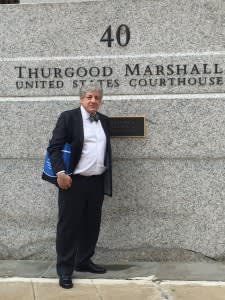 We won a major victory on January 10th in the Second Circuit Court of Appeals in the case of A.M. v. NYC Department of Education. Attorney Andrew Feinstein argued the case as a friend of the court on behalf of COPAA.
Ever since the Supreme Court wrote, in Rowley, that methodology is generally in the discretion of the school, school officials have argued that parents have no say in the educational methods used to educate their children with disabilities. The federal regulations said otherwise.
The Second Circuit wiped out the school district's argument in AM. The court found, "when the reports and evaluative materials present at the [IEP] meeting yield a clear consensus, an IEP formulated for the child that fails to provide services consistent with that consensus is not 'reasonably calculated to enable the child to receive educational benefits,' [quoting Rowley] and the state's determination to the contrary is thus entitled to no deference because it is unsupported by a preponderance of the evidence…. This remains true whether the issue relates to the content, methodology, or delivery of instruction in a child's IEP."
In other words, the parents have every right to argue, with expert support, for the right educational method to be used with their child at PPT meetings and to insist that the right educational methodology be written in the IEP.